Weekly Roundup: Hospitality Staffing Solutions, Aerotek, Medix, Maxim, Faststaff, and U.S. Nursing
Catching up on the action today. Not sure how Medix managed to run up $1,713,809 in unpaid fees for COVID testers - I thought the Feds paid for everything? This looks like a painful lesson about the dangers of one-off opportunities.
Hospitality Staffing Solutions and Walgreens Face California Class Action
This lawsuit covers the usual California Labor Code grounds, but the lead claim seems to be based on violations of the Fair Credit Reporting Act. The case arises out of workers staffed to a Walgreens distribution center.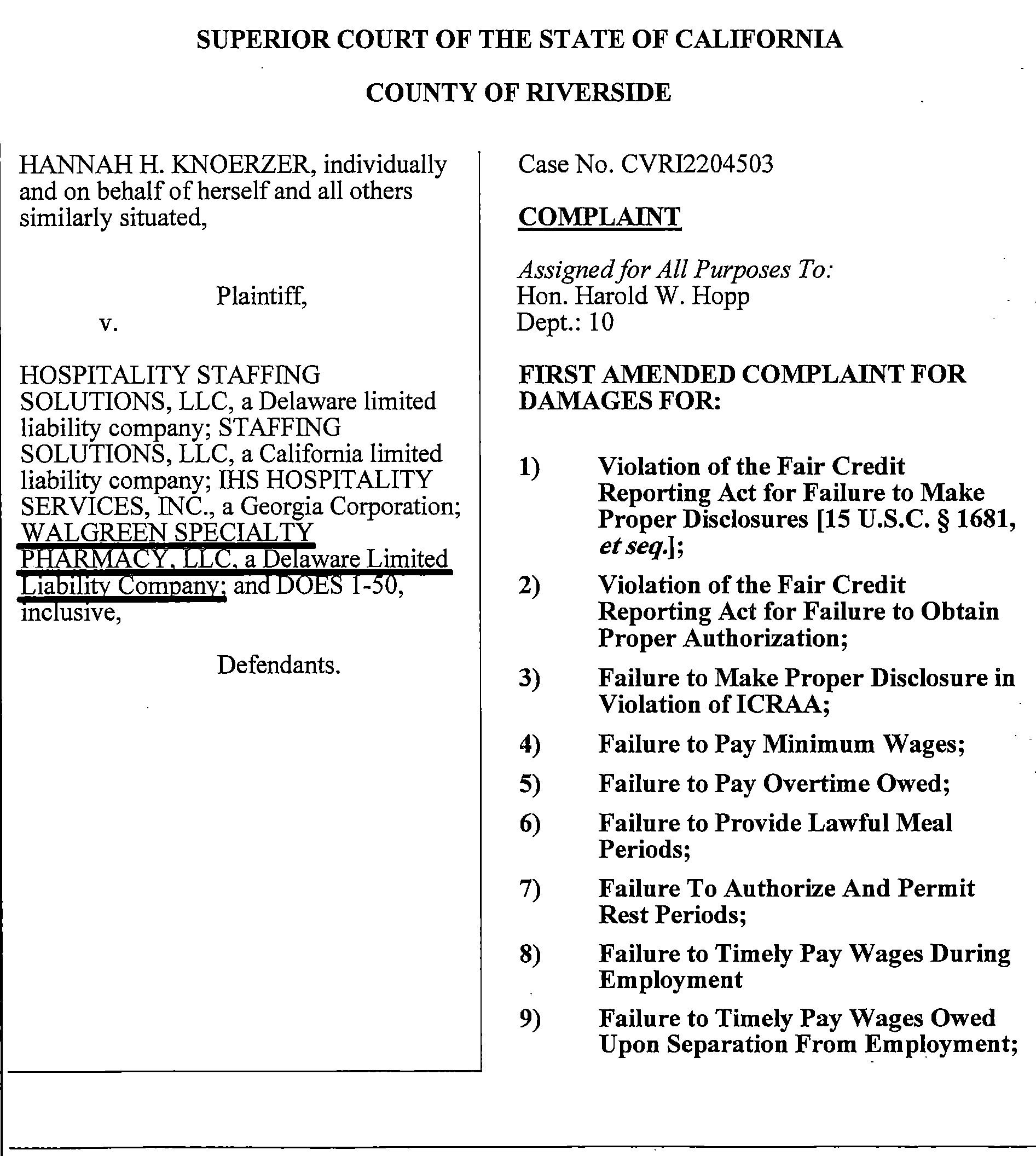 The FCRA and its California cousin, the ICRAA, have very specific technical requirements about the form of notice that must be given before conducting a background check. The Complaint alleges that proper notice was not given to applicants. When this occurs, the result is a legal layup for the plaintiffs' lawyers, and significant exposure to statutory damages of up to $1,000 per violation. In a high-volume staffing operation, that can add up, not to mention "incidental" losses such as attorney's fees, both the plaintiffs' and yours.  It is surprising how many staffing firms get this wrong. One method used to reduce risk is to outsource the entire background check process to a reputable background check company that handles all authorization paperwork.
Aerotek Sued When Client Allegedly Fails to Accommodate Prayers by Muslim Employees
An Indiana lawsuit alleges that Aerotek client Labcorp Drug Development Corp. was hostile to Muslim workers and did not accommodate their need to pray during the workday. Aerotek was sued, even though it appears the staffing firm did not participate in the alleged conduct by client supervisors.
Medix Staffing Solutions Lawsuit for $1,713,809 Shows the Dangers of One-Off "Opportunities"
When a big one-off staffing opportunity lands in your lap, alarm bells should go off. Chicago-based Medix Staffing Solutions is one of the largest staffing firms in the United States, according to an August 2022 press release:
Medix, a national organization specialized in workforce solutions and recruiting skilled personnel for clients in the Healthcare, Life Sciences, Engineering and Technology industries, was recognized on the Staffing Industry Analysts (SIA) list of "Largest Staffing Firms in the United States" for the eighth consecutive year. The list includes firms that generated $100 million or more in U.S. staffing revenue in 2021.
On January 18, 2023, Medix sued its client Affinity Empowering, Inc. for unpaid fees totaling $1,713,809. The work order attached to the Complaint indicates that the services supplied were "COVID testers," and there must have been a whole bunch of them. Here is the open account ledger attached to the Complaint: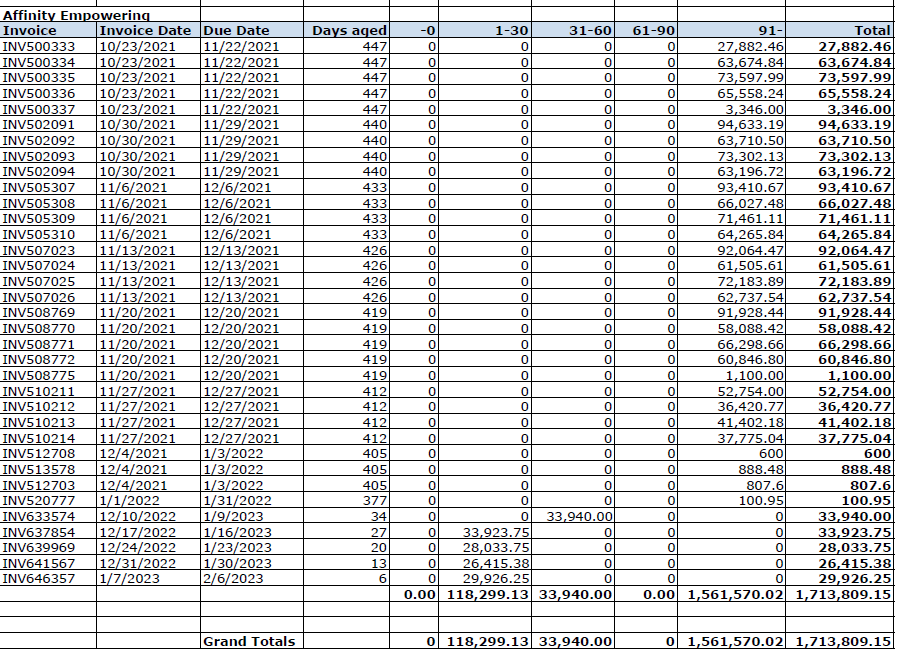 What is odd about this ledger, besides the large amount outstanding, is the apparent resumption of services in 2023. Perhaps this is due to correction of an earlier billing error, because it's hard to imagine going back to work for a client that has owed you over $1,500,000 for a year!
In any event, this appears to be a classic one-off opportunity gone bad. And with AR this old, it is rare to ever collect it. Windfall assignment opportunities like this should always be carefully scrutinized before committing to them.
Maxim Healthcare Staffing Takes a Hit from Prison Healthcare Services Provider
Maxim Healthcare Staffing has sued a longtime client for the staggering sum of $3,112,922.59, plus interest and attorney's fees, representing fees due for supplying registered nurses, licensed practical nurses, certified medical assistants, medication aides, certified nurse assistants, infusion nurses, administrative assistants, phlebotomists, dental assistants, radiology technicians, nurse practitioners and physician's assistants to a client formerly known as Correctional Medical Services, Inc., a/k/a Corizon, Inc. You can read about Corizon's long-running troubles here. It was reported that Corizon was sued for malpractice 660 times in a five-year period.
This is the opposite of a one-off client fiasco. This is likely a loss that could be seen coming, yet disengagement from a long-time client for credit worries is almost unheard of in the staffing industry. Because of this, some staffing firms end up serving as a client's banker and lender, only with no collateral. In the event of a bankruptcy, Maxim will be at the end of the line with all the other unsecured creditors.
Fastaff and U.S. Nursing Face Wage-Hour Collective Action by Travel Nurses in Colorado
Travel Nurse companies Fastaff and U.S., Nursing are defendants in a collective action brought on behalf of their large travel nurse workforces. The lawsuits allege unpaid wages and overtime for post-shift charting and administrative chores, as well as automatic deductions for lunches they were too busy to take. We don't know if the allegations are true, but software that automatically makes assumptions about working hours is not a good idea.