Aerotek Trademark Suit Against Jobot Just the Tip of the Iceberg
Lawsuit appears to be just one front in a larger battle between the staffing giant and upstart Jobot.
On July 29, 2022, 2022, Allegis Group subsidiary Aerotek sued recruiting firm Jobot and former Aerotek employee Corey Dalton in the U.S. District Court for the Middle District of North Carolina, located in Greensboro. The lawsuit, which you can download below, alleges that Dalton and Jobot used his Allegis bio to mislead the public:    
28. Dalton copied his Aerotek biographic profile and posted it as his Bio on Jobot's web site. Dalton holds himself out as an Aerotek employee, associating himself with the history, reputation and good will of Aerotek. The Bio directs candidates to what appear to be Aerotek postings but are in fact Jobot requisitions.
The Complaint incorporated the offending Jobot bio: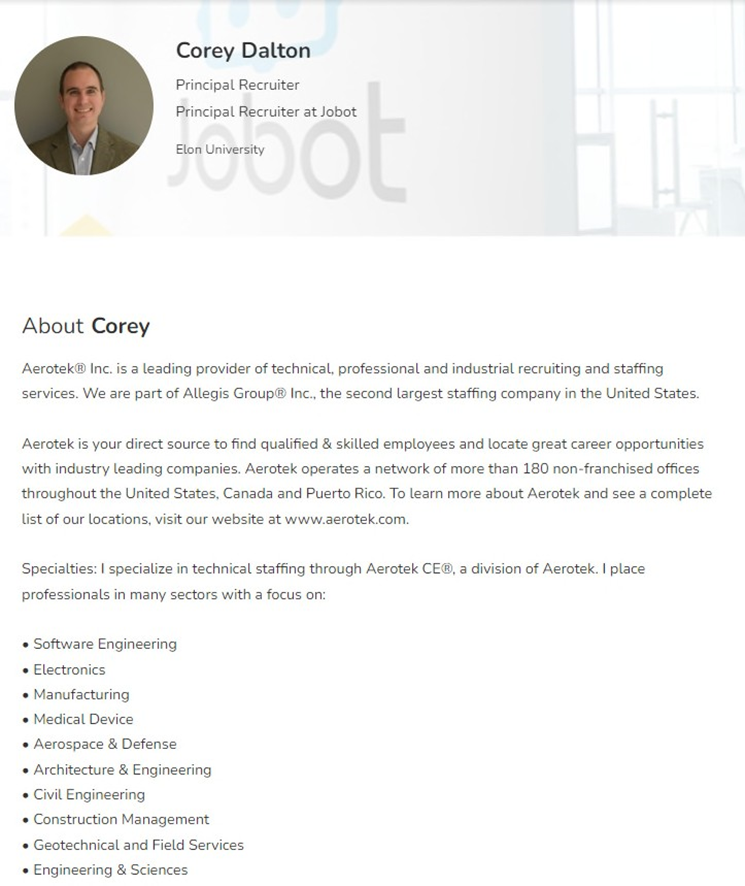 The Complaint alleges that Dalton did the same thing with his LinkedIn profile and goes on the seek "a preliminary injunction against Defendants' use of the marks AEROTEK, AEROTEKCE, and ALLEGIS GROUP, or any confusingly similar term or terms in connection with offering or providing their services, or any services related to such services...."
Was Dalton actually trying to hold himself out as an Aerotek employee, or did he just lazily cut and paste his old bio without realizing it would require some editing? It doesn't really seem like a good idea to advertise Aerotek on your Jobot profile. And why was Aerotek so quick to file suit, when ordinarily a cease-and-desist letter from a lawyer would do the trick? Indeed. the bios were quickly taken down after the lawsuit was filed.
Florida Subpoena Reveals a Deeper Story:  Allegis vs. Jobot
It turns out that there is a deeper story here. On August 18, 2022, a Motion for Protective Order was filed in connection with a noncompete lawsuit styled Allegis Group, Inc. et al. v. Christopher J. Bero pending in the U. S. District Court for Maryland. The suit involves claims and counterclaims between Chris Bero and Allegis Group, Aerotek and Ashton Carter (all three are Allegis companies). The Motion for Protective Order was filed by a non-party witness, Ruby Voight, who was subpoenaed by the Allegis side to give deposition testimony in the case. Voight, like Bero, is an ex-Allegis employee, and is also Bero's supervisor at Jobot. We'll let this excerpt from Voight's Motion for Protective Order tell the rest of the story:
Nonparty Ruby Voight is justifiably concerned that Plaintiffs will attempt to use her deposition in their case against Bero as a vehicle for obtaining information to build a case against her or her other coworkers rather than for discovery relevant to the claims and defenses in this particular case. Many former employees of the Allegis Companies, including Bero and Voight, have left the Allegis Companies for better opportunities at Jobot, LLC ("Jobot"), a competitor in the staffing industry. To indirectly punish Jobot for offering their former employees better opportunities, the Allegis Companies have engaged in a two-pronged campaign of (1) suing as many former employees who left to work for Jobot as they can and (2) refusing to pay the former employees (including Voight) moneys they earned in an Allegis incentive plan that became payable upon their separation from service regardless of whether they engaged in any conduct that could constitute a forfeiture under the plan.
                                                        ***
The lawsuit against Bero is not a one-off. It is part of the Allegis Companies' larger corporate strategy of indirectly attacking Jobot, and trying to deter additional employees from leaving, by punishing employees who left to work there. So far, the Allegis Companies have recently filed at least two more lawsuits against former employees who left to work for Jobot: (1) Allegis Grp., et al. v. Nosky, Case No. 8:22-cv-01516-PX (D. Md.) and (2) Aerotek, Inc., et al. v. Jobot LLC and Corey Dalton, Case No. 22-599 (M.D.N.C.). And they have asserted counterclaims against employees who have sued for nonpayment of their IGP funds. See Moore v. Aerotek Affiliated Servs., Inc., Case No. 1:22- cv-02522 (N.D. Ga.); O'Bryan v. Aerotek Affiliated Servs., Inc., Case No. 1:22- cv-02523 (N.D. Ga.). They have refused to pay IGP funds to many more employees who left to work for Jobot who they have not (yet) sued.
Clearly, the plot has thickened. Dalton's supervisor at Jobot, Voight (herself a former Allegis/Aerotek employee with a possible wage claim), asserts that Aerotek filed the unusual trademark suit against Dalton as part of a larger strategic attack on Jobot. Maybe so - it wouldn't be the first time a staffing firm went to war to protect its talent, it's information and its client relationships.
In any event, court docs from both matters are attached for your reading pleasure. Stay tuned, we will be following the action.